Influence4You rachète Linkalyze
Influence4You acquiert Linkalyze, l'outil SAAS de veille et d'analyse des posts et des influenceurs sur LinkedIn et devient la plateforme la plus complète du marché.
Après avoir annoncé un partenariat stratégique début 2020, Influence4You rachète la technologie française Linkalyze, et la propose gratuitement sur linkalyze.app et l'intègre en premium à son offre.
« Nous avons de plus en plus de demandes d'accompagnement sur des opérations d'influence en B to B et il était indispensable d'intégrer les influenceurs LinkedIn à nos offres » , déclare Stéphane BOUILLET, fondateur d'Influence4You.
Accès aux statistiques de 500 000 profils LinkedIn
Quand Thomas Pons et Sylvain Tillon, les fondateurs de Linkalyze nous ont proposé de racheter l'intégralité de leur technologie, nous n'avons pas hésité. Ce rachat nous donne accès aux statistiques de plus de 500.000 profils sur LinkedIn et nous permet ainsi de devenir le Leader français sur l'influence B to B. Il permet ainsi à Influence4You de proposer l'offre technologique la plus large (micro et top influence, B to C et maintenant B to B) » ajoute Stéphane Bouillet.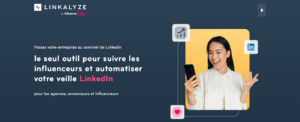 Téléchargez le plugin Chrome Linkalyze gratuitement
L'offre Linkalyze a été simplifiée (les anciennes offres payantes seront rendues gratuites notamment). Ainsi, en téléchargeant le nouveau plugin Chrome Linkalyze, on peut facilement et gratuitement :
• Surveiller des mots clés pour pouvoir réagir au plus vite (comme un Google Alert sur Linkedin)
• Avoir des statistiques avancées des profils LinkedIn
Les clients d'Influence4You ayant l'offre « Influencer Relationship Management », ont accès à des services premiums :
un moteur de recherche multi-critères sur 500.000 influenceurs,
gestion experte des campagnes d'influence sur LinkedIn…
« Influence4You était l'acteur le plus sérieux qui pouvait développer notre technologie. Le marché est énorme. Mais les clients demandent une offre complète (Instagram, YouTube, TikTok, LinkedIn…) et nous avions toujours dit que nous resterions spécialisés sur LinkedIn. Cette cession était donc une évidence, déclare Thomas PONS. Nous avons profité des mois d'été pour former les équipes techniques d'Influence4You et le résultat de cette intégration montre que nous avons eu raison de choisir un acteur français pour accélérer Linkalyze. »
Sylvain Tillon complète « Nous sommes vraiment fiers de ce rapprochement. En tant que micro-influenceur
LinkedIn, j'espère bientôt recevoir des offres de la part des clients d'Influence4You ! »
Téléchargez gratuitement notre plugin Linkalyze
Et découvrez les offres Influence4You